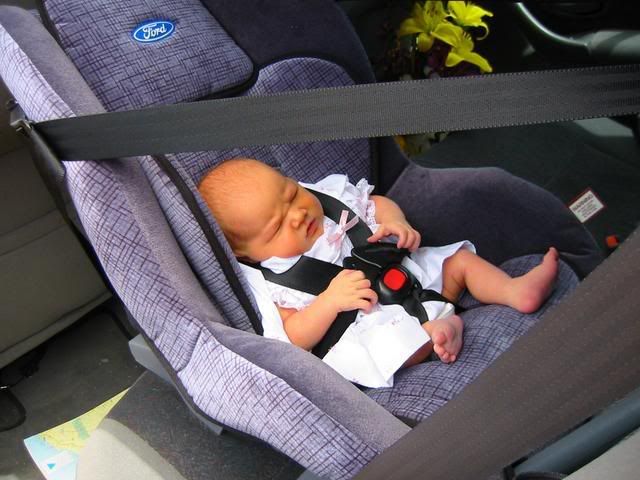 Most of the infant car seats tested by Consumer Reports "failed disastrously" in crashes at speeds as low as 35 mph, the magazine reported Thursday.
The seats came off their bases or twisted in place, the report said. In one case, a test dummy was hurled 30 feet.

*snip*

To be sold in the United States, an infant seat must perform adequately in a 30 mph frontal crash, and Consumer Reports found that all but the Discovery did so. But it noted that NHTSA crash tests most cars at higher speeds — 35 mph for frontal crashes and 38 mph for side crashes — so the magazine tested the seats at those speeds.
The rest of the story.....

I don't find this acceptable at all. Yes, I understand that they were tested at higher speeds than required for them to test, but do we really want kids to be even unsafer in their car seats as soon as speeds reach 35mph? Just how often do people drive that speed anyway....even when it's the speed limit?
It reminds me of a conversation I had with my mom recently. Ever notice how the recall flyers are usually posted in the back of the store or on the walls in the customer service area? How often do you visit 'those' areas? To make matters worse, the recalls listed are almost 'always' on children's products. I'm sorry, but is it just me who is a little disturbed by the fact that the companies who specialize in making toys for kids....are the ones who are screwing up the most by allowing products on the market before they've really been tested out that well? Seriously, I understand that sometimes things go wrong, and I'm glad they recall those things....but I'm more referring to items like the play set I recently saw that had a recall because it was discovered kids could fit their arms in a tube on it, and they were getting dislocated shoulders and such as they tried to pull their arms back out. Kids have arms....kids get curious....kids explore....kids are *playing* with these toys. Make them safe.
Or how about all the ones that get recalled because they realize there are tiny parts that can come off? Kids put things in their mouths....kids get choked....why insist on putting itty bitty parts on things that are being marketed for the same kids who are going to shove them in their mouths? Do they really not consider these things before selling toys....or do they just not care about anything except the money (because obviously only a small portion of buyers are even going to realize that the products have been recalled)?
Back to the car seats....wouldn't it make sense to test these seats at higher speeds so they can ensure their buyers that their seats are extra safe? Here's another quote that really stood out:
"It's unconscionable that infant seats, which are designed to protect the most vulnerable children, aren't routinely tested the same as new cars," said Consumer Reports' Don Mays, a product safety director.
Makes sense, doesn't it? They're constantly checking new cars and boasting about how this one is safer than that one, blah, blah, blah. But why aren't they checking the seats that are going 'inside' the cars, just as much....especially considering the infant riders are even more vulnerable and fragile than the standard adult? Kinda scary....