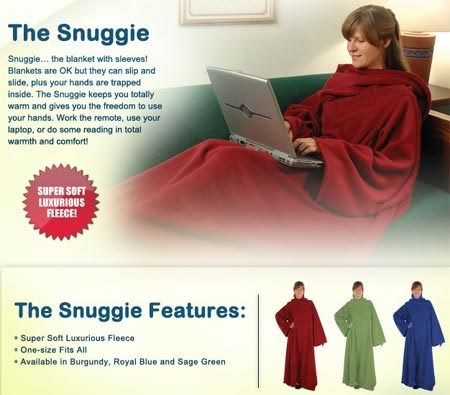 So besides it looking like something worn by cult members.....and besides it looking like a
beefed up robe
that wants to eat you....it's kinda cool. You might've seen them on TV at this point, but I'm still passing them on.
Snuggies. Cute name....or maybe still cult-ish, I still can't quite decide. The snuggle bunnies are coming to get you! Rawr!!
*Cough* Anyway, $15 plus shipping and you can be a part of the cult, too. Christmas gift maybe? Yes, you can just use a blanket or sit uncomfortably in a robe, but this covers you entirely....and looks cult-ish! Remember? All the cool kids are getting them...
~Edit~ I've been told that these are like the "
Slanket
".....apparently they didn't get the hype that Snuggies seem to be getting but they're basically the same thing.....for 45 bucks + shipping instead. But without the cute, cult-like name.
Oh, and the Snuggie website has a special going on right now! Buy one Snuggie for $19.95 + 7.95 and you'll get a free booklight *and* you get a second one free (+ shipping). Not a bad deal at all.
~Edit~ If you're having a hard time finding the main site, it's
GetSnuggie.com
.
~Edit 1-30-09~ Check out my latest Snuggies post involving pictures of people wearing the snuggie and a parody video about the "what the bleep blanket," hehe.
Additional resource:
Aptus Life Insurance