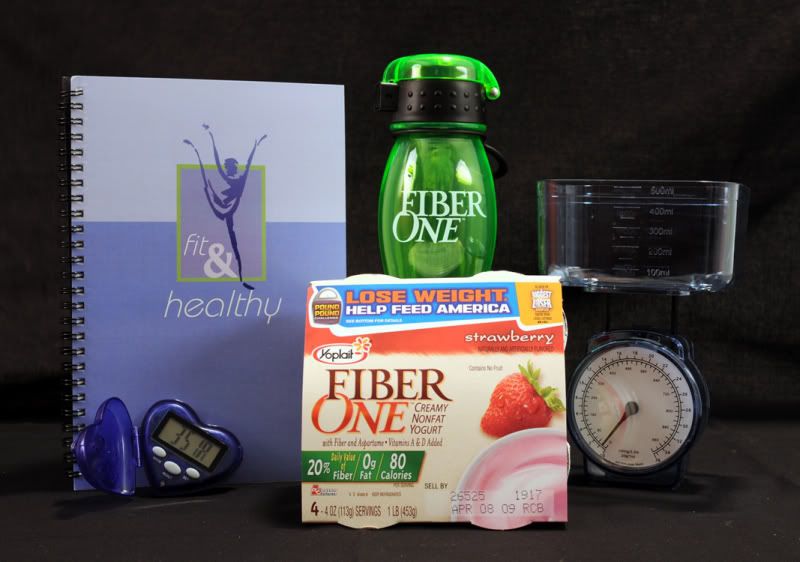 (Skip to the bottom of the post if you only want to know how to win your own gift package!)
Yep, I've been given the chance to giveaway three of these
Fiber One
gift packages! I got mine in the mail a couple days ago and it's all just awesome!
Included is a Fit & Healthy food journal, a water bottle, a food scale, a heart-shaped pedometer, and a coupon redeemable for a free Fiber One yogurt (wouldn't want them actually shipping you the yogurt, of course, hehe).
Now I'm not one to think about my fiber intake, much less actually watch how many grams I'm getting throughout the day. Many other people do, though, and this package is great regardless.
I also had a bit of fun with the
Fiber Friend Face-Off
where I played a little game of picking the correct foods to reach 25g of fiber. It was followed by a quiz which showed me that I pretty much know nothing about the daily requirements of fiber or how much people generally get, lol. Even if you don't want to play the game, check out the link to enter the Fiber One sweepstakes and print off a coupon. :)
Regardless, I had a bit of fun creating my Face-Off Friend avatar:
Come on, it's not called Quirky Jessi for me to pass up a perfectly good clown nose! :P
I really don't think Kim knew what she had coming to her when she faced my mad fiber picking skills. She looked really tough, but it was no match for my quirkiness. ;-)
Alright, alright, let's get to the contest rules. If you've read this far, you must be one of my regular readers and either get a kick out of me playing a fiber game.....or enjoy pigtails and clown nose combos.
When I enter other people's contests, it's much more inviting when they have several ways to enter instead of just one or two ways. Keep in mind that although Fiber One is the sponsor for this, there's much more to the package than just fiber....who couldn't get some use out of a pedometer, food scale, journal, or a water bottle?
Contest Rules


Required entry: Comment below.
(How else would I get in touch with you, after all? Comments are open and you can comment anonymously, but I need a valid email address or I won't be able to contact you if you're a winner.)
Ways to get more entries:
(For each entry, please leave a separate comment below letting me know what you did. If you're already a subscriber, just leave a comment saying so. If you follow me on Twitter or tweet about the contest, tell me your username in a new comment.)
--
Subscribe to Quirky Jessi
(lots of ways....
using RSS
, through Blogger, or
even by email
)
--
Follow me on Twitter
(
Quirky Jessi
)
--
Tweet about the contest
-- can be done up to 2 times for 2 entries
--
Blog about the contest
(link back to this post and leave the URL in comments below)
--
Answer one or more of these questions
-- each worth a separate entry, so put them in separate comments:
-- What is your favorite Fiber One product?
-- If you've tried Fiber One yogurt, what did you like about it or what's your favorite flavor? If you haven't tried it, what flavor will you try if you win? (flavors can be found here)
-- Do you know how much fiber you're getting?
--
Play the Friend Face-Off game
and tell me how much fiber you got
--
Talk about this giveaway somewhere else
-- up to 2 separate entries (post on a forum? use Facebook? another site you love? just be sure to leave the link in the comments)
Remember to put each entry in a separate comment so they'll all be counted. :)
~Contest ends at midnight EST, March 27th~