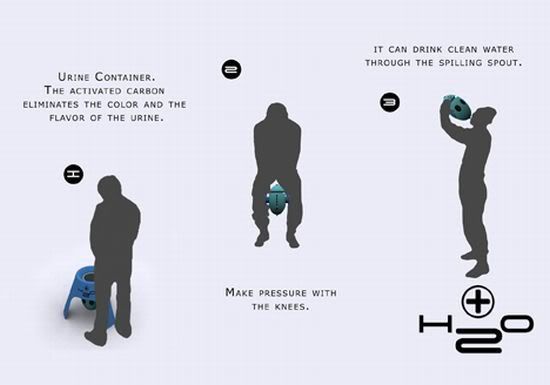 Um. Yeah.
At first glance, it can seem a little crazy, but if you read into it, the idea is interesting. The idea is to have an emergency device like this in drought-stricken areas, etc.
Basically, it converts urine (human or animal pee either one) into drinkable water when the users pee on "activated carbon" inside. That then removes the color and flavor.
(Uh, what about all the stuff inside the pee that the body expelled in the first place? It's not just about color and flavor...is it?)
Either way, you can see more labeled pictures and diagrams of the inner workings on
thedesignblog
. I wonder if we'll ever see things like this that actually work and are used...
~Edit May 23, 2009~ The first astronaut drank recycled urine!
Check it out at the link
.