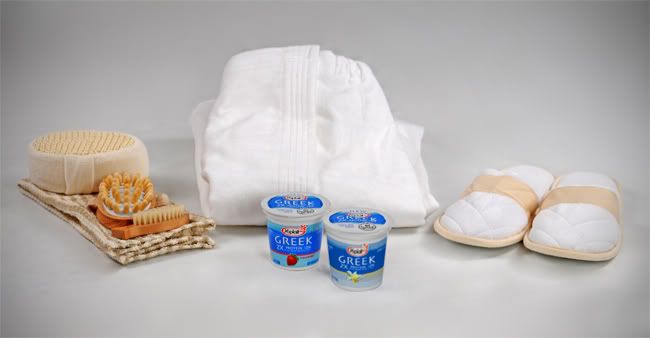 I'll admit, when I got the email offering to host a Yoplait Inner Goddess giveaway, my first thought was "more yogurt? really?" Now I like yogurt, but how many yogurt giveaways are there every single month? Maybe you guys don't read many blogs that have them, but I've hosted a few myself and they're all over in the mommy blogger world.
But my mom loves Greek yogurt and I've only had it once or twice myself, so I figured if I was going to form a real opinion of this style of yogurt, I might as well go with a quality brand like Yoplait, right?
And when the box arrived, I'd forgotten all about the rest of the "Nourish Your Inner Goddess" part of the campaign! Slippers, a soft comfy wrap-around robe, and a full bath kit....it was such a nice treat.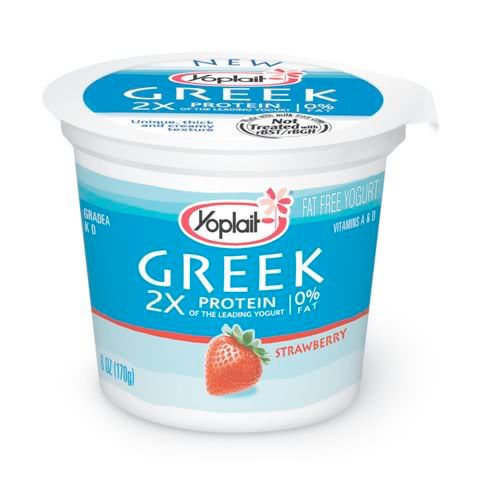 So now it's your turn. You get the above, including two coupons to try out their Greek yogurt. It comes in four flavors....strawberry, blueberry, honey vanilla, and plain. Here's how to win*:
--
Subscribe to QuirkyJessi
(lots of ways....
using RSS
, through Blogger, or
even by email
)
--
Subscribe to Quirky Cookery
--
Comment on Quirky Cookery
(any post is fine, just remember to come back and tell me you commented here for the contest)
--
Tell me what flavor(s) of Yoplait Greek yogurt you would try first.

-- Tell me how you get in touch with your "inner goddess." ;)
--
Follow me on Twitter
(
Quirky Jessi
)
and tweet about the contest
--
Talk about this giveaway somewhere else
-- up to 2 separate entries (make a post on your blog? post on a forum? use Facebook? another site you love? just be sure to leave the link in the comments)
Contest ends midnight EST May 3rd. Sponsored by MyBlogSparkTM and Yoplait Greek yogurt who provided both my gift pack and that to be given to a winner of this giveaway.
*This coupon offer for a free cup of Yoplait Greek yogurt is not valid in some states, including California, Idaho, Louisiana, Minnesota, Nevada, New Jersey, North Dakota, and Tennessee.
Bummer.