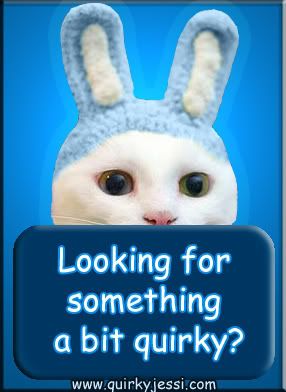 Across the web, I'm known as this image:




I never planned to stick with it for 2 1/2 years, but it caught on and I stuck with it. There's not much to work with there, but I've played with it a few times...like for this banner that was needed for a site that I won a contest on:




On Bloggeries, it was once brought up a battle between "monkey and bunny" because my avy was a bunny and the other guy's was a monkey. It took more than a few seconds for me to even register that, though, because as a general rule, I don't associate myself with a bunny.

I recently got a review that said "Cat lovers you have got to check this out. Jessi has a great sense of humor while being quite informative! FUN SITE!" and I thought, "hmph, yeah, I do mention cats quite often around here." Over the years, I've associated myself with cats quite often as well and I have several username variations that care cat oriented, too...but never had I actually branded QuirkyJessi as such.

Over the weekend, I went browsing for some new images to use another project I was working on and I ran across the cat you see in the top picture. Well, actually he looked like this:




And I switched him to this:



I was going to just edit the colors a bit and then kick off a contest here that I've been contemplating with a nice LolCat variation for Quirky. Instead, I ended up mimicking my lovely little branded QJ logo and just ran with it. Oops.

No, it's not meant to be an exact replica either, lol. If it was, I would've done several different things to make it the same....like playing with his eyes to make them lopsided, hehe. And some of the features are over-exaggerated so when I shrink it down to avy size, you'll still be able to see. I was just having fun with it and this is where it ended up. I thought I'd share with you guys since I've talked about cats here a whole lot more than I have bunnies.





So what do you think? Could I pass off as a kitty in bunny disguise?