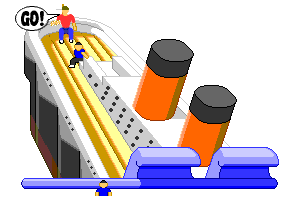 Measuring 33 feet in height and 50 feet in length, this awesome slide captures the feeling of the real giant. Adding to the realism of this ride are the famed triple screw propellers and rudder. One could almost believe the ship is sinking! Who will survive the slide down? This dual slide captures all the excitement of the famed ocean liner on its maiden voyage.
Wait, what? Are you serious? Apparently! Party USA offers the
Titanic Adventure Slide
as part of its huge collection of party inflatables. Just what I always wanted....to jump around and slide down a blow-up pseudo-Titanic, capturing "all the excitement" of the famous ship. I wonder if they had this much fun when it was sinking...
There other slides and blowup adventure courses look really cool, though. The
Giant Twister Board
could be fun and the same with the
Micro-Reality Racing
....but I'm sure nothing can be reliving the Titanic in big, puffy, bouncy, blow-up form. Ahh, the memories...